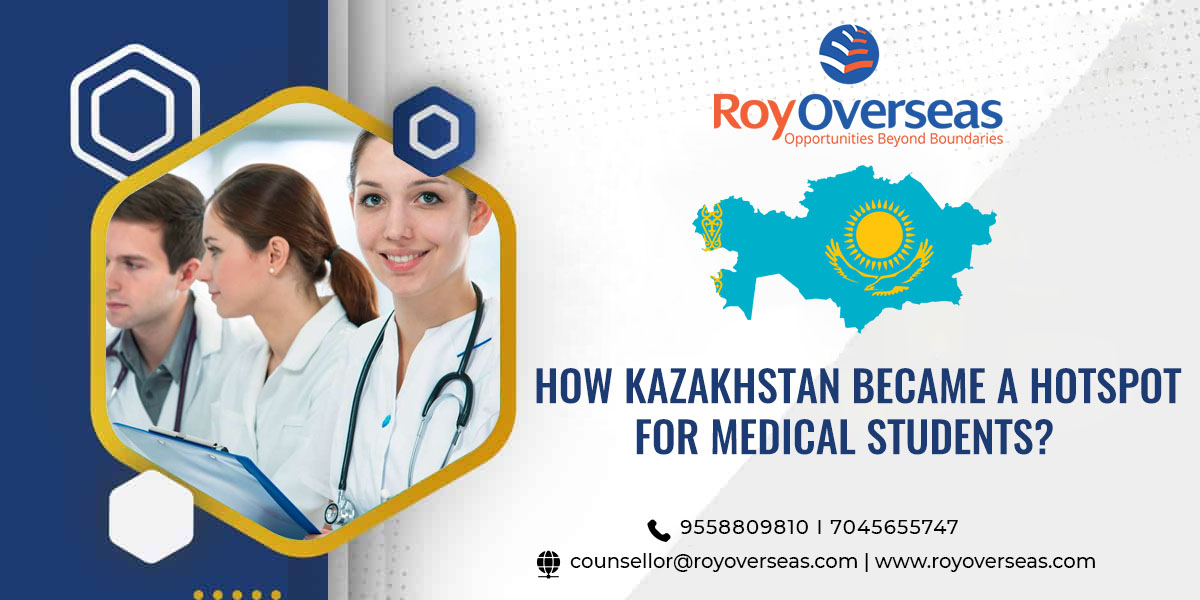 Kazakhstan's culture is a fascinating fusion of European and Asian influences, particularly Islamic and Russian ones. This country in Central Asia is the largest landlocked nation on Earth. Kazakhstan borders China, Kyrgyzstan, Turkmenistan, Uzbekistan and Russia. The total length of the borderline is 12,187km.
In addition to being a member of the WTO, OSCE, UN, andEurasia Economics (EE), it is also an active member of the World Trade Organization. Medical schools in Kazakhstan are rapidly expanding. Every year, more than 6,000 premedical students from all around the world call it their home. This degree program's popularity in Kazakhstan can be attributed to the country's high standard of education, low cost, rich cultural heritage, and plentiful job prospects.
Let's have a look at some of the many other reasons why you might consider studying medicine in Kazakhstan:
There is no need for the students studying in the top MBBS Universities in Kazakhstan to feel homesick for Indian cuisine because Indian food is available throughout the country and most universities offer Indian Mess facilities.
Not all students can afford the donation fees, but the tuition at Indian Medical Universities in Kazakhstan is well within the financial reach of middle-class students.
English is the language used by the majority of universities worldwide. They are concerned about preventing any distance from forming between themselves and their students.
Students who graduate from one of Kazakhstan's top medical schools are recognised around the world, including in India, for their qualifications to practise medicine. This is because these schools have received accreditation from the WHO and the medical councils of many countries.
The medical infrastructure and laboratory equipment at universities are among the best in the country.
Internships in Kazakhstan's world-class hospitals can give students a leg up in the medical field.
As a developed nation, Kazakhstan provides a pleasant and secure setting for students.
Indian students do not require appearing for any language test such as IELTS or TOEFL, or even an entrance exam, to get into one of the best medical schools in Kazakhstan.
Comparable to its Indian counterpart, the MBBS programme in Kazakhstan lasted for 5 years. A doctoral degree in medicine can be earned in 5 years.
Kazakhstan's Top 3 Medical Universities:
MBBS in Kazakhstan for Indian Students have the option of attending either a private or public university, but those in the latter category are often required to study abroad. To aid anyone who would like to attend medical school in Kazakhstan, we have conducted some preliminary research into the available institutions. Here's the rundown:
Al Farabi Kazakh National Medical University
Kazakh National Medical University
Astana Medical University
Teaching languages:
In the medical schools of Kazakhstan, instruction is conducted primarily in English. They will also help you learn the local language at no extra cost. That's the finest part because picking up a new tongue is always a plus. Since the use of the local language is more in day-to-day interactions with locals, it will be much simpler to remain in the country.
Documents Required:
Passport
Medical Certificate
Negative report of COVID-19 and HIV.
Last 6 months' bank statements of the student's parents
Passport-size photos (white background)
Valid Passport
10th mark sheet
10+2 mark sheet
Letter of invitation
Admission application
NEET result
Eligibility criteria:
The candidate should clear 10+2 with a minimum of 50% with a major in Physics, Biology and Chemistry.
The candidate must be NEET qualified
The candidate must complete 17 years of age till 31st December of that particular academic year.
Career Options in Kazakhstan after completing MBBS:
MBBS admission in Kazakhstan for 2023 is yet to open, but those who have already completed their MBBS degree from any of the reputed medical universities in Kazakhstan can practise medicine in India as well as in any country across the globe, all thanks to World Health Organization and the National Medical Council of India for recognising the medical institutions in Kazakhstan. After passing their MBBS degree in Kazakhstan, students can;
Practice MBBS in Kazakhstan.
Return to India for further medical education or start your own clinic or work in any hospital.
Study MD (Medical Degree) in the United States or Germany after finishing your MBBS in Kazakhstan.